It is still Wild West times when it comes to artificial intelligence for Joomla. Join us as Yannick Gaultier introduces us to his newest Joomla extension: 4AI.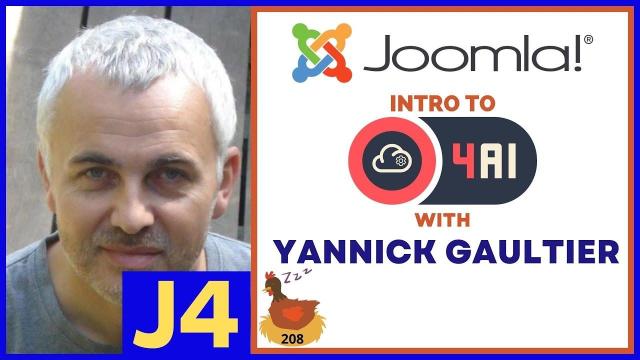 Here's a summary of the provided transcript in bullet points:
- The discussion is about "Intro to 4AI with Yannick Gaultier" on YouTube.
- Tim Davis, a Joomla enthusiast, is hosting the live stream (Work Live Stream number 208) on the Basic Joomla Tutorials YouTube channel.
- Tim promotes his services for building, maintaining, and migrating Joomla websites and mentions his email for inquiries.
- The video is sponsored by mysites.guru, offering free site audits for Joomla sites and tools to manage multiple Joomla sites.
- Yannick Gaultier is introduced as a guest, and it's mentioned that he's been a guest on the show multiple times.
- The discussion revolves around artificial intelligence (AI) and its use in Joomla.
- Yannick has developed a Joomla extension called "4AI," and it's discussed briefly.
- The name "4" in Yannick's extension names is explained, originating from his earlier extension "sh404sef."
- They discuss the evolution of AI, including the use of Transformers by Google for translation and prediction.
- GPT (Generative Pre-trained Transformer) technology is highlighted as a significant advancement.
- Various AI tools and applications, such as code generation and image generation, are mentioned.
- Chat GPT (Chad DBT) is discussed as a tool that allows users to interact with AI-generated responses.
- The presentation discusses how AI works, predicting the next word or token based on training data.
- OpenAI's GPT-4 is mentioned as a leading AI model, and its availability via API is noted.
- The presentation emphasizes the importance of SEO despite AI advancements in search engines.
- Google's use of AI to present search results is briefly mentioned.
- They discuss the mixed results of using AI for content creation, translation, and text processing.
- Expanding or restyling content using AI can be hit or miss.
- The presentation notes that search augmented by AI requires a vector database, which may become relevant for Joomla in the future.
- The speaker believes that the future of AI tools lies in training them on your own data and using them internally for knowledge preservation and customer service.
- There are mentions of open-source AI models and data sets for smaller-scale applications.
Please note that the transcript is lengthy, and this summary captures the main points.
SUBSCRIBE TODAY! ► https://goo.gl/N6y5bH
Watch Me Work live streams ►
• Find and Replace ...
Here are some of the links mentioned in this Live Stream - and some others:
Contact Tim Davis ► This email address is being protected from spambots. You need JavaScript enabled to view it.
Joomla Training Cohort ► https://cybersalt.com/jtc
mySites.guru ► https://mysites.guru
MigrateMe 4 ► https://www.php-web-design.com/Joomla...
Stageit for Joomla ►
• First Look at Sta...
Backing Up Your Joomla Site with Akeeba ►
• How to Backup a J...
Better Frontend Link ► https://regularlabs.com/betterfronten...
FOLLOW US ON TWITTER! ► @basicjoomla
LIKE US ON FACEBOOK! ► https://www.facebook.com/basicjoomla