Apr 4, 2023 Joomla Template Tutorials
Even if you have Search Engine Friendly Urls turned on for your Joomla site, not all of your articles may have SEF urls. This video shows you a way to ensure all your Joomla articles have SEF urls - not just some.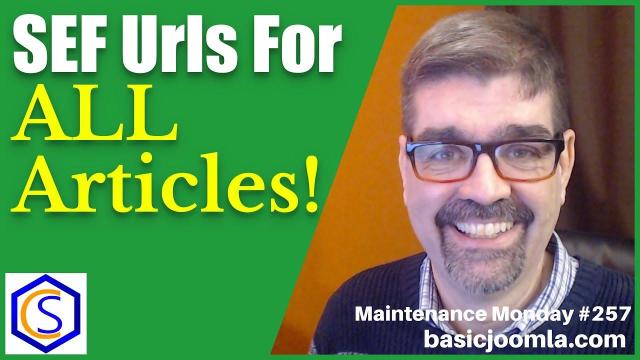 The video discusses how to enable search engine friendly URLs for Joomla articles.
- The speaker recommends using mysites.guru for a free site audit for Joomla sites.
- The speaker introduces themselves as Tim Davis, a Joomla fan.
- They mention that the video is part of "Maintenance Monday" on the "Basic Joomla Tutorials" YouTube channel.
- The video focuses on fixing an issue where an article's URL is not search engine friendly.
- The problem arises when an article is assigned to a category that lacks a menu item pointing to it.
- The solution involves creating a new menu called "junk drawer" and adding a menu item for the "uncategorized" category using the "category blog" type.
- By doing this, the articles under the "uncategorized" category will have search engine friendly URLs.
- The speaker demonstrates how the new menu item generates an SEF URL for the "dogs are great" article.
- They emphasize the importance of ensuring all articles have SEF URLs by placing them under menu items.
- The speaker also points out that subcategories will inherit the SEF URLs from their parent categories.
- They suggest using a Joomla extension called "Regular Labs" for handling SEF URLs.
SUBSCRIBE TODAY! ► https://goo.gl/N6y5bH
Watch Me Work live streams ►
• Find and Replace ...
Here are some of the links mentioned in this Live Stream - and some others:
Contact Tim Davis ► This email address is being protected from spambots. You need JavaScript enabled to view it.
Joomla Training Cohort ► https://cybersalt.com/jtc
mySites.guru ► https://mysites.guru
MigrateMe 4 ► https://www.php-web-design.com/Joomla...
Stageit for Joomla ►
• First Look at Sta...
Backing Up Your Joomla Site with Akeeba ►
• How to Backup a J...
Better Frontend Link ► https://regularlabs.com/betterfronten...
FOLLOW US ON TWITTER! ► @basicjoomla
LIKE US ON FACEBOOK! ► https://www.facebook.com/basicjoomla