Join us for a live stream (or replay) as Ruud van Lent, from onlinecommunityhub.nl, shows us how to setup an article Paywall in Joomla.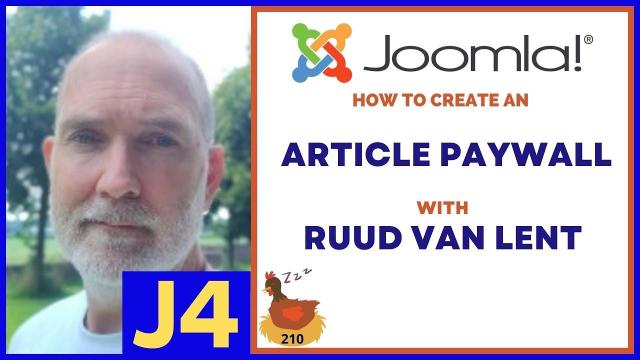 The video is about creating an article paywall in Joomla with Ruud van Lent.
- Tim Davis is the host of the live stream (WMW 210) on YouTube.
- The video is sponsored by mysites.guru for Joomla site management tools.
- Ruud van Lent is the guest and a Joomla expert.
- They discuss the possibility of creating an article paywall in Joomla using OCH subscriptions.
- They explain the concept of intro text, full text, and read more in Joomla articles.
- Ruud demonstrates creating a Joomla article with embedded video and PDF handouts.
- They discuss the benefits of click-to-load embedded media for privacy and faster page loading.
- The video provides insights into setting up online courses with protected content.
- Ruud mentions using his own Joomla extensions for various functionalities.
- The discussion covers creating categories and menu items for Joomla articles.
- Ruud showcases the Joomla article with embedded content and accordion-style course summary.
- They emphasize the importance of access levels and groups for controlling content access.
- The video briefly touches on responsive images and social media sharing (Open Graph).
- Ruud uses the Cassiopeia template and demonstrates Joomla basics for creating protected content.
SUBSCRIBE TODAY! ► https://goo.gl/N6y5bH
Watch Me Work live streams ►
• Find and Replace ...
Here are some of the links mentioned in this Live Stream - and some others:
Contact Tim Davis ► This email address is being protected from spambots. You need JavaScript enabled to view it.
Joomla Training Cohort ► https://cybersalt.com/jtc
mySites.guru ► https://mysites.guru
MigrateMe 4 ► https://www.php-web-design.com/Joomla...
Stageit for Joomla ►
• First Look at Sta...
Backing Up Your Joomla Site with Akeeba ►
• How to Backup a J...
Better Frontend Link ► https://regularlabs.com/betterfronten...
FOLLOW US ON TWITTER! ► @basicjoomla
LIKE US ON FACEBOOK! ► https://www.facebook.com/basicjoomla