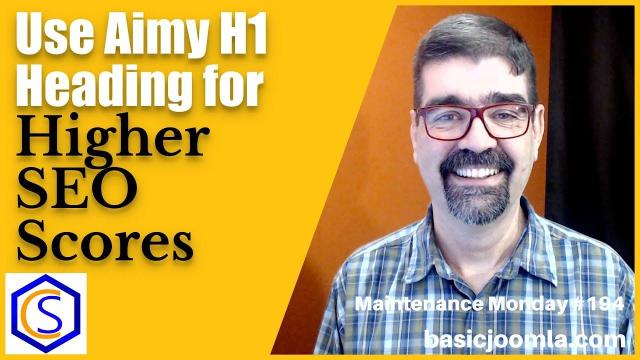 - The video discusses using the Amy H1 Heading plugin for better SEO results in Joomla content organization.
- Presenter: Tim Davis, Joomla enthusiast.
- Importance of having Heading 1 (H1) tags on Joomla pages for accessibility and SEO.
- Mention of live stream discussing heading formatting for accessibility.
- Introduction to the Amy H1 Heading plugin by Mary Nevious from Webby Design.
- Promotional mention of mysites.guru for Joomla site management tools.
- Steps to install the plugin:
1. Download Amy H1 Heading from amyextensions.com.
2. Access Joomla's Extension Manager.
3. Upload and install the plugin package.
- Configuring the plugin settings:
- Activate the plugin.
- Show context option to exclude certain pages from plugin's effect.
- Show context reveals page information for exclusions.
- Usage of Chrome DevTools to identify missing H1 tags.
- Demonstrating plugin functionality:
- Examining the absence of H1 tag on a Joomla article page.
- Activation of plugin for that page.
- Refreshing the page to observe the added H1 tag.
- Usage of the web accessibility evaluation tool to check H1 tag presence.
- Exploring the "Check H1 Headings" feature:
- Activating the feature.
- It identifies multiple H1 tags on a single page and offers a visual warning.
- Discussing proper H1 tag usage:
- Each page should ideally have a single H1 tag for main topic.
- Subtopics can use H2, H3, etc.
- Advice on proper content organization and optimization.
- Encouragement to subscribe, like, and follow the channel for updates.
- Mention of other recommended videos and content.
- Conclusion and well wishes for Joomla site management and SEO improvement.
SUBSCRIBE TODAY! ► https://goo.gl/N6y5bH
Watch Me Work live streams ►
• Find and Replace ...
Here are some of the links mentioned in this Live Stream - and some others:
Contact Tim Davis ► This email address is being protected from spambots. You need JavaScript enabled to view it.
Joomla Training Cohort ► https://cybersalt.com/jtc
mySites.guru ► https://mysites.guru
MigrateMe 4 ► https://www.php-web-design.com/Joomla...
Stageit for Joomla ►
• First Look at Sta...
Backing Up Your Joomla Site with Akeeba ►
• How to Backup a J...
Better Frontend Link ► https://regularlabs.com/betterfronten...
FOLLOW US ON TWITTER! ► @basicjoomla
LIKE US ON FACEBOOK! ► https://www.facebook.com/basicjoomla