If you have forgotten your password for your Joomla site and are too lazy to look it up in your password management tool, this tip will help you see what it is behind the auto-filled dots in the password field. Promise us you will use tis for good and not evil!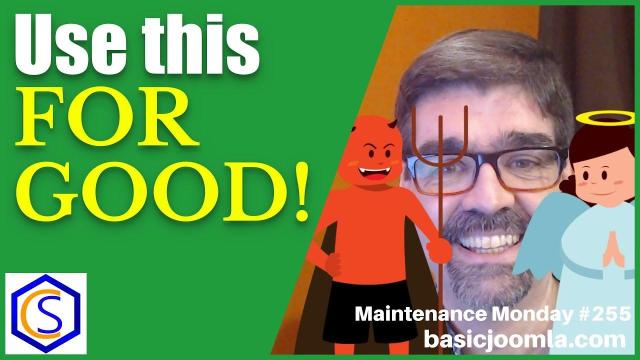 Title: "Quick Reminder of Forgotten Joomla Passwords - 🛠 MM #255 - YouTube"
Tim Davis, a Joomla fan, presents Maintenance Monday #255 on the "Basic Joomla Tutorials" YouTube channel.
He discusses the importance of having different passwords for each site and the use of password reminder tools.
Tim shares a quick trick to reveal a saved password on a Joomla site without going through the regular password reminder process.
To do this, he right-clicks on the password field, selects "Inspect" to open Chrome development tools, and changes the input type from "password" to "text" to reveal the password.
He acknowledges Carl Farrington for showing him this trick.
By doing this, users can easily share their passwords with others who can help them log in to their site.
Tim invites viewers to subscribe to the channel for more videos and concludes with "enjoy your Joomla sites and God bless."
SUBSCRIBE TODAY! ► https://goo.gl/N6y5bH
😴👌Watch Me Work live streams ►
• Find and Replace ...
Here are some of the links mentioned in this Live Stream - and some others: Contact Tim Davis ► This email address is being protected from spambots. You need JavaScript enabled to view it.
Joomla Training Cohort ► https://cybersalt.com/jtc
mySites.guru ► https://mysites.guru
MigrateMe 4 ► https://www.php-web-design.com/Joomla...
Stageit for Joomla ►
• First Look at Sta...
Backing Up Your Joomla Site with Akeeba ►
• How to Backup a J...
FOLLOW US ON TWITTER! ► @basicjoomla LIKE US ON FACEBOOK! ► https://www.facebook.com/basicjoomla