It is still very early days for AI and content development so it's interesting to see all the different approaches to using AI in Joomla as they come along. In this video we take a first look at AI buttons for Joomla, by Daniel of aiplugin.net. It is described as "an assistant who will produce relevant and competitive content for your Joomla website!"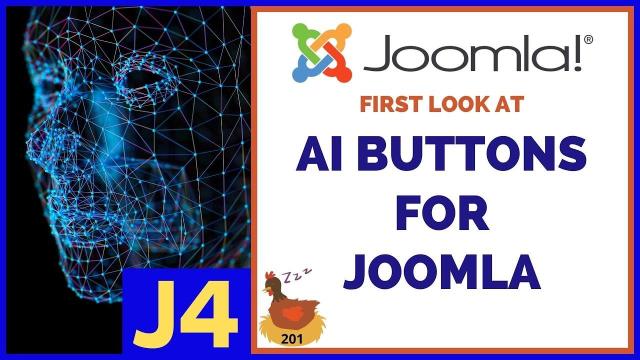 - The video is titled "First Look at AI Buttons for Joomla - 👀 WMW 201 - YouTube."
- The video features Tim Davis discussing AI Buttons from AI plugin.net and exploring their functionality in Joomla.
- Tim mentions that the video is a part of the "basic Joomla tutorials YouTube channel."
- Tim briefly discusses the early days of AI and the need to be curious and not afraid of its potential.
- He mentions his channel sponsor, mysites.guru, offering a free site audit for Joomla sites.
- Tim demonstrates the process of installing the AI content generator extension for Joomla.
- He discusses various AI settings for generating content, such as temperature, top P, max tokens, frequency penalty, and presence penalty.
- There is a brief mention of an account expiration date and the need to set up a paid account for the AI service.
- Tim mentions Daniel and AI plug-in net during the video.
Note: The transcript is quite lengthy and includes various technical details and interactions, so the bullet points capture the main topics and actions discussed in the video.
SUBSCRIBE TODAY! ► https://goo.gl/N6y5bH
Watch Me Work live streams ►
• Find and Replace ...
Here are some of the links mentioned in this Live Stream - and some others:
Contact Tim Davis ► This email address is being protected from spambots. You need JavaScript enabled to view it.
Joomla Training Cohort ► https://cybersalt.com/jtc
mySites.guru ► https://mysites.guru
MigrateMe 4 ► https://www.php-web-design.com/Joomla...
Stageit for Joomla ►
• First Look at Sta...
Backing Up Your Joomla Site with Akeeba ►
• How to Backup a J...
Better Frontend Link ► https://regularlabs.com/betterfronten...
FOLLOW US ON TWITTER! ► @basicjoomla
LIKE US ON FACEBOOK! ► https://www.facebook.com/basicjoomla