Mar 28, 2023 Joomla Training Cohort
Better Frontend Link from Regular Labs does away with the frustration of trying to preview Joomla articles that are otherwise hard to find using Joomla's core preview button.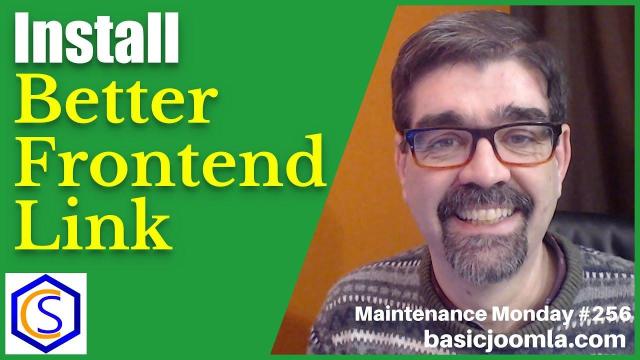 Title: "Install Better Frontend Link for Previewing Joomla Articles - 🛠 MM #256 - YouTube"
The video demonstrates how to install an administrator module for Joomla sites to improve the previewing of articles.
The module is called "Better Frontend Link" from Regular Lab.
The presenter, Tim Davis, is a Joomla fan and shares tips for building and maintaining Joomla sites.
He shows a plain Joomla 4 site with sample blog content.
Tim highlights the frustration of finding and previewing articles on Joomla sites using the standard preview method.
He introduces "Better Frontend Link" as a solution to this problem.
To install the module, users can go to "System," then "Install Extensions," and select "Install from Web" to find and install "Better Front."
Once installed, the module appears at the top of the article edit page.
It allows users to preview the article directly on the frontend with options to view the article, category page, or the home page.
Tim demonstrates the preview functionality, showing the article "Dogs are Great" directly on the frontend.
The module provides a more efficient way to preview articles being worked on in Joomla.
The video encourages viewers to subscribe for more content related to Joomla sites.
SUBSCRIBE TODAY! ► https://goo.gl/N6y5bH
😴👌Watch Me Work live streams ►
• Find and Replace ...
Here are some of the links mentioned in this Live Stream - and some others:
Contact Tim Davis ► This email address is being protected from spambots. You need JavaScript enabled to view it.
Joomla Training Cohort ► https://cybersalt.com/jtc
mySites.guru ► https://mysites.guru
MigrateMe 4 ► https://www.php-web-design.com/Joomla...
Stageit for Joomla ►
• First Look at Sta...
Backing Up Your Joomla Site with Akeeba ►
• How to Backup a J...
Better Frontend Link ► https://regularlabs.com/betterfronten...
FOLLOW US ON TWITTER! ► @basicjoomla
LIKE US ON FACEBOOK! ► https://www.facebook.com/basicjoomla