When you are copy and pasting into your Joomla site from another web page, email, document or other type of source, JCE Editor is a great tool that can automatically clean up unwatned code in the content you are pasting. It's another great way to let your Joomla template handle the formatting of your content!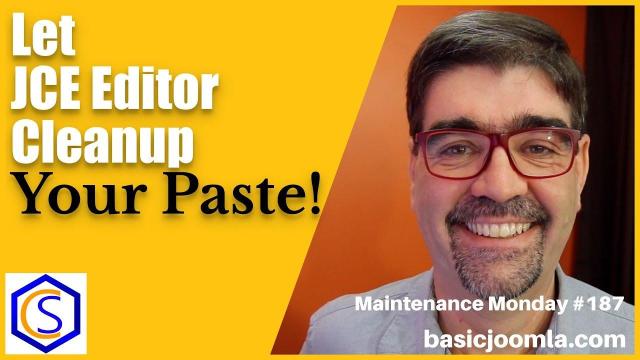 Video discusses using JCE Editor for cleaning up copy-paste content in Joomla.
- Tim Davis, Joomla enthusiast, presents "Maintenance Monday #187" on YouTube.
- Last week's video focused on copying content into Joomla articles and removing unnecessary formatting.
- Mary Nevious recommended JCE Editor for code cleanup in comments.
- This video demonstrates setting up JCE Editor to automatically clean up pasted content.
- Shows JCE Editor's global configuration options:
- Validating pasted HTML
- Choosing HTML version to validate against (HTML5, XHTML, etc.)
- Handling non-breaking spaces (nbsp)
- Padding empty tags
- Converting elements on Enter (e.g., paragraph to div)
- Discusses editor profiles and plug-in parameters customization:
- Allow paste dialog
- Cleaning up Microsoft Word content
- Stripping class attributes from Word content
- Removing or keeping spans, styles, tags, attributes, event attributes
- Handling empty paragraphs and new lines
- Processing footnotes and images for upload
- Removing content using regular expressions
- Allowing paste as HTML or plain text
- Demonstrates cleanup process on a sample text paste:
- Gradually adjusts settings to show cleanup effects
- Displays changes in the pasted content's HTML code
- Highlights benefits of JCE Editor's cleanup features:
- Consistent formatting on Joomla sites
- Easier for users to adhere to formatting guidelines
- Encourages using JCE Editor to maintain consistent formatting and improve workflow.
SUBSCRIBE TODAY! ► https://goo.gl/N6y5bH
Watch Me Work live streams ►
• Find and Replace ...
Here are some of the links mentioned in this Live Stream - and some others:
Contact Tim Davis ► This email address is being protected from spambots. You need JavaScript enabled to view it.
Joomla Training Cohort ► https://cybersalt.com/jtc
mySites.guru ► https://mysites.guru
MigrateMe 4 ► https://www.php-web-design.com/Joomla...
Stageit for Joomla ►
• First Look at Sta...
Backing Up Your Joomla Site with Akeeba ►
• How to Backup a J...
Better Frontend Link ► https://regularlabs.com/betterfronten...
FOLLOW US ON TWITTER! ► @basicjoomla
LIKE US ON FACEBOOK! ► https://www.facebook.com/basicjoomla