Joomla Extension Developers are starting to release their extensions to run only on PHP 8.1 or higher. That means it's time for us to talk about PHP 8.0's End of Live and what that means for various #Joomla versions.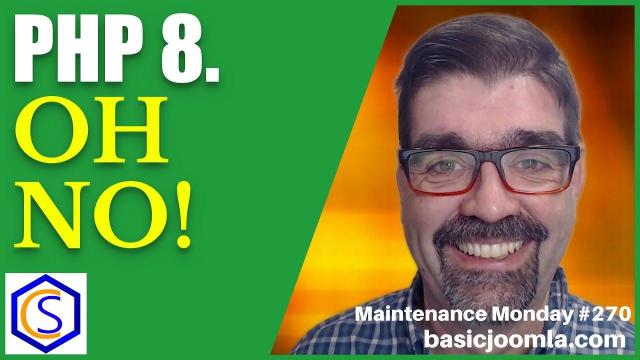 Joomla extension developers are releasing extensions for PHP 8.1.
- PHP 8.0 end of life is on November 26, 2023, with no security support afterward.
- Joomla 4 is recommended to run on PHP 8.0 but can run on PHP 7.2.5.
- Joomla 5 is coming out in October with no breaking changes for templates and extensions.
- Joomla 5 requires a minimum PHP version of 8.1.
- Components working in Joomla 4 will work in Joomla 5 if they support PHP 8.1.
- Joomla 3 sites can migrate to Joomla 4 with the same PHP version or higher than 7.2.
- Joomla 4 sites with extensions not compatible with PHP 8.1 need to stay on PHP 8.0 until extensions are updated.
- Joomla 4 sites can migrate to Joomla 5 if all extensions support PHP 8.1.
- PHP 8.1 offers performance improvements, asynchronous operations, and database enhancements.
- Joomla 5 will support MySQL 8.0.11, MariaDB 10.4, and PostgreSQL 12+.
- Extension developers prioritize security and income, so they focus on newer, supported PHP versions.
- Using outdated software for sites and extensions is not recommended for security reasons.
- Staying up-to-date with secure software allows for innovation and new extension development.
SUBSCRIBE TODAY! ► https://goo.gl/N6y5bH
Watch Me Work live streams ►
• Find and Replace ...
Here are some of the links mentioned in this Live Stream - and some others:
Contact Tim Davis ► This email address is being protected from spambots. You need JavaScript enabled to view it.
Joomla Training Cohort ► https://cybersalt.com/jtc
mySites.guru ► https://mysites.guru
MigrateMe 4 ► https://www.php-web-design.com/Joomla...
Stageit for Joomla ►
• First Look at Sta...
Backing Up Your Joomla Site with Akeeba ►
• How to Backup a J...
Better Frontend Link ► https://regularlabs.com/betterfronten...
FOLLOW US ON TWITTER! ► @basicjoomla
LIKE US ON FACEBOOK! ► https://www.facebook.com/basicjoomla