Let's talk about Content Taxonomy: how we organize the content on our Joomla sites.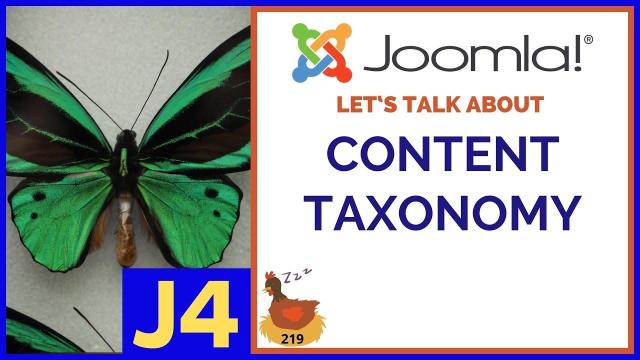 The video is titled "A Look at Content Taxonomy in Joomla - 👀 WMW 219 - YouTube."
- The video is part of a live stream on the "Basic Joomla Tutorials" YouTube channel.
- The host's name is Tim Davis.
- The video discusses how to organize and present content on a Joomla website.
- Tim mentions that he offers Joomla site-related services, including building, maintaining, and consulting.
- The video is sponsored by "My Site Stock Guru," a tool for managing Joomla sites.
- Tim talks about the importance of content taxonomy, categorization, and classification.
- He demonstrates creating categories for different car brands, such as Chevrolet, GMC, Buick, and Cadillac.
- Tim discusses the importance of choosing the right focus for a website and how it affects content organization.
- He shows how to create subcategories for specific car models within each brand.
- Tim mentions the possibility of users submitting articles about their own cars in the future.
- Throughout the video, Tim interacts with viewers in the live chat and addresses their comments and questions.
SUBSCRIBE TODAY! ► https://goo.gl/N6y5bH
Watch Me Work live streams ►
• Find and Replace ...
Here are some of the links mentioned in this Live Stream - and some others:
Contact Tim Davis ► This email address is being protected from spambots. You need JavaScript enabled to view it.
Joomla Training Cohort ► https://cybersalt.com/jtc
mySites.guru ► https://mysites.guru
MigrateMe 4 ► https://www.php-web-design.com/Joomla...
Stageit for Joomla ►
• First Look at Sta...
Backing Up Your Joomla Site with Akeeba ►
• How to Backup a J...
Better Frontend Link ► https://regularlabs.com/betterfronten...
FOLLOW US ON TWITTER! ► @basicjoomla
LIKE US ON FACEBOOK! ► https://www.facebook.com/basicjoomla