With Tooltips from Regular Labs, you can easily add tooltips to text or images within articles, inside modules, or even 3rd party components and template overrides. Let's take a first look at this extension!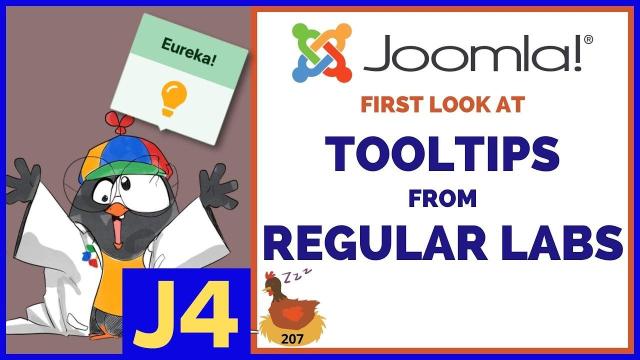 The video is titled "First Look at Tooltips for Joomla from Regular Labs - 👀 WMW 207 - YouTube."
- The video is a tutorial on using tooltips, a Joomla extension from Regular Labs.
- The video is hosted by Tim Davis on the Basic Joomla Tutorials YouTube channel.
- Tim mentions that the video is part of the "Watch and Work Live Stream" series on the channel.
- The video is sponsored by "My Site Stock Guru," which offers a free site audit for Joomla sites.
- Tim mentions that the live stream is shorter than usual due to his upcoming trip to a conference in Banff, Alberta.
- The conference is related to helping churches sponsor refugees to come to Canada.
- Tim plans to work on refugee-related tasks during his trip.
- The main topic of the video is the "Tool Tips" extension from Regular Labs for Joomla.
- Tim demonstrates how to install the extension and use it to create tooltips in Joomla articles.
- He goes through various settings and options for customizing the tooltips, including styling, positioning, and advanced settings.
- Tim also shows examples of tooltips with different content, including text, images, and rich text formatting.
- He mentions some issues with paragraph tags and tooltips in Joomla 3.
- Tim experiments with the "sticky" mode for tooltips but encounters some issues.
- The video includes detailed information on using and customizing the Tool Tips extension in Joomla.
SUBSCRIBE TODAY! ► https://goo.gl/N6y5bH
Watch Me Work live streams ►
• Find and Replace ...
Here are some of the links mentioned in this Live Stream - and some others:
Contact Tim Davis ► This email address is being protected from spambots. You need JavaScript enabled to view it.
Joomla Training Cohort ► https://cybersalt.com/jtc
mySites.guru ► https://mysites.guru
MigrateMe 4 ► https://www.php-web-design.com/Joomla...
Stageit for Joomla ►
• First Look at Sta...
Backing Up Your Joomla Site with Akeeba ►
• How to Backup a J...
Better Frontend Link ► https://regularlabs.com/betterfronten...
FOLLOW US ON TWITTER! ► @basicjoomla
LIKE US ON FACEBOOK! ► https://www.facebook.com/basicjoomla