John Dagelmore of storejextensions.org has released a new extension: Jshortcodes for Joomla and in this video we're going to take a first look at it.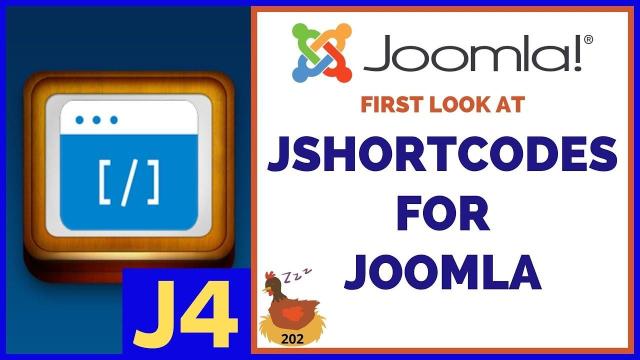 Here's a summary of the provided transcript in bullet points:
- Title: "First Look at Jshortcodes for Joomla - 👀 WMW 202 - YouTube"
- Tim Davis, a Joomla enthusiast, is hosting a live stream on Joomla extensions.
- The live stream is sponsored by mysites.guru, offering site management tools and information.
- Tim introduces "J short codes," an extension from John Dagamore, the creator of Json Map Pro for Joomla.
- He explores the extension's features and functionality.
- Tim demonstrates how to insert shortcodes for different widgets, like accordions, on a Joomla site.
- He briefly discusses configuration settings for the extension.
- Tim tries to create accordion-style content with titles but faces some difficulties.
- He refers to a PDF document for guidance on shortcode syntax.
- Tim interacts with viewers' comments during the live stream.
- He experiments with various shortcode attributes to style the content.
- Tim explores the possibility of using template overrides to modify the shortcode appearance.
- The live stream provides a glimpse of the extension's capabilities, showing dynamic content effects.
Please note that the transcript is quite long and detailed, so this summary covers the main points.
SUBSCRIBE TODAY! ► https://goo.gl/N6y5bH
Watch Me Work live streams ►
• Find and Replace ...
Here are some of the links mentioned in this Live Stream - and some others:
Contact Tim Davis ► This email address is being protected from spambots. You need JavaScript enabled to view it.
Joomla Training Cohort ► https://cybersalt.com/jtc
mySites.guru ► https://mysites.guru
MigrateMe 4 ► https://www.php-web-design.com/Joomla...
Stageit for Joomla ►
• First Look at Sta...
Backing Up Your Joomla Site with Akeeba ►
• How to Backup a J...
Better Frontend Link ► https://regularlabs.com/betterfronten...
FOLLOW US ON TWITTER! ► @basicjoomla
LIKE US ON FACEBOOK! ► https://www.facebook.com/basicjoomla