If your Joomla Admin area is broken because of an extension that you need to unpublish but you can't unpublish it because your Joomla admin area is broken, this video will show you how to find the problem and regain the access and/or functionality you need to move forward.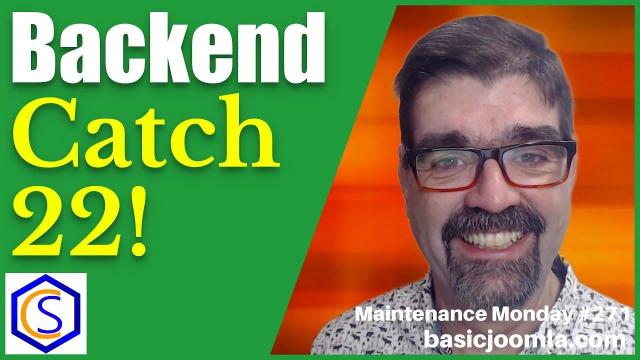 - The video is titled "Joomla Admin Backend Catch 22 - 🛠 MM #271 - YouTube."
- The video is about solving a problem with the Joomla admin backend caused by a broken extension.
- The speaker is Tim Davis, and the video is part of the Basic Joomla Tutorials YouTube channel.
- Joseph had a similar problem with his Joomla site, which is used as an example in the video.
- The video explains how to enable debugging and error reporting when the backend is broken.
- To enable debugging and error reporting, you need to edit the global configuration.php file on your web hosting account.
- The video shows how to locate and edit the configuration.php file to change the debug and error reporting settings.
- Once debugging and error reporting are enabled, the video demonstrates how to identify the problematic extension causing the issue.
- Instead of renaming folders, the video suggests disabling the problematic plugin directly in the Joomla database using PHPMyAdmin.
- The speaker walks through the process of finding and disabling the plugin in the database.
- After disabling the plugin, the video shows that the backend access is restored, allowing users to address the issue.
- The video encourages viewers to subscribe for more Joomla-related content.
SUBSCRIBE TODAY! ► https://goo.gl/N6y5bH
Watch Me Work live streams ►
• Find and Replace ...
Here are some of the links mentioned in this Live Stream - and some others:
Contact Tim Davis ► This email address is being protected from spambots. You need JavaScript enabled to view it.
Joomla Training Cohort ► https://cybersalt.com/jtc
mySites.guru ► https://mysites.guru
MigrateMe 4 ► https://www.php-web-design.com/Joomla...
Stageit for Joomla ►
• First Look at Sta...
Backing Up Your Joomla Site with Akeeba ►
• How to Backup a J...
Better Frontend Link ► https://regularlabs.com/betterfronten...
FOLLOW US ON TWITTER! ► @basicjoomla
LIKE US ON FACEBOOK! ► https://www.facebook.com/basicjoomla